California Stars SC Affiliate Program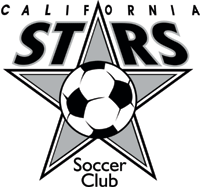 California Stars Soccer Club is excited to announce a new Club Affiliate Program that will expand the California Stars brand with support for coaches and managers of teams and small clubs that have a common vision. Newly formed youth soccer teams and clubs and existing clubs are eligible to become official Affiliates of the California Stars Soccer Club. Affiliates will have unlimited access to club resources and support designed to provide the essential tools for success in Southern California youth club soccer and beyond.
Affiliate clubs and teams will enjoy significantly increased benefits including but not limited to the following:
Name and brand recognition
Coast Soccer League (CSL) play
Cal South tournament play
State and National Cup play
Convenient Online Cal South player registration and ID cards
501c3 Non-Profit Status (receive tax deductible donations and non profit rate for field permit)
Comprehensive coaching curriculum assistance
Club and team administration assistance
National sponsorship opportunities
College exposure opportunities
Team or Club website assistance and support.
Contact us for more information at: info@californiastars.org