California Stars SC Affiliate Program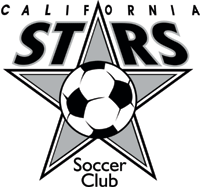 California Stars Soccer Club is excited to announce the new Club Affiliate Program that will expand the California Stars brand with support for coaches and managers of teams and small clubs that have a common vision. New forming teams and existing youth soccer clubs eligible to become official Affiliates of the California Stars Soccer Club. Affiliates will have unlimited access to club resources and support designed to provide the essential tools for success in Southern California youth soccer and beyond.

Affiliates will enjoy significantly increased benefits including but not limited to the following:
Name and brand recognition
Coast Soccer League (CSL) play
Cal South tournament play
State and National Cup play
Convenient Online Cal South player registration and ID cards
501c3 Non-Profit Status (receive tax deductible donations and non profit rate for field permit)
Comprehensive coaching curriculum assistance
Club and team administration assistance
Your own team or club bank account
National sponsorship opportunities
College exposure opportunities
Team or Club website assistance and support
If you are a soccer coach or soccer enthusiast involved in recreational soccer looking to start your own club soccer team(s), California Stars is here to help and support your efforts. We will guide you thru the entire process of setting up a club soccer team(s) and successfully compete in CSL, Cal South sanctioned Tournaments and State or National Cup. Why join soccer clubs who charge thousands of dollars for individual players fees to play on teams with coaches assigned to multiple teams. You can run your own team finances and focus on coaching your team(s) and developing your players.
 If you are a coach or an administrator of existing club team(s), and would like to run your own club team(s) the way you see fit, California Stars is here to help and support. Affiliate your team(s) with a successful organization and enjoy the experience of playing club soccer in Southern California.
If you are a coach or soccer enthusiast that would like to form and direct your own multiple team(s) or even your own club, we will assist and support you with all the necessary resources.
Contact us for more information at: info@californiastars.org